Jonas of the Three Spades
Gold Saucer (4.6, 7.3)
Cost
Reward
10
22 (Win)
8 (Draw)
3 (Lose)
Rules
Level
All Open, Same
1
Potential reward
Conditions to challenge
None
Drop rates have a color to illustrate their accuracy depending on the number of drop reports:
Red: inaccurate (less than 100 reports), Orange: somewhat accurate (100~1000 reports), Blue: accurate (more than 1000 reports)
Deck
Cards marked with a green circle are always in this NPC's deck.
Tips
This NPC is harder to beat than the Triple Triad Master, especially if you're still learning the game. His Same rule can be very dangerous if you don't pay attention - and plan your moves.
I'll show you how it works with an example.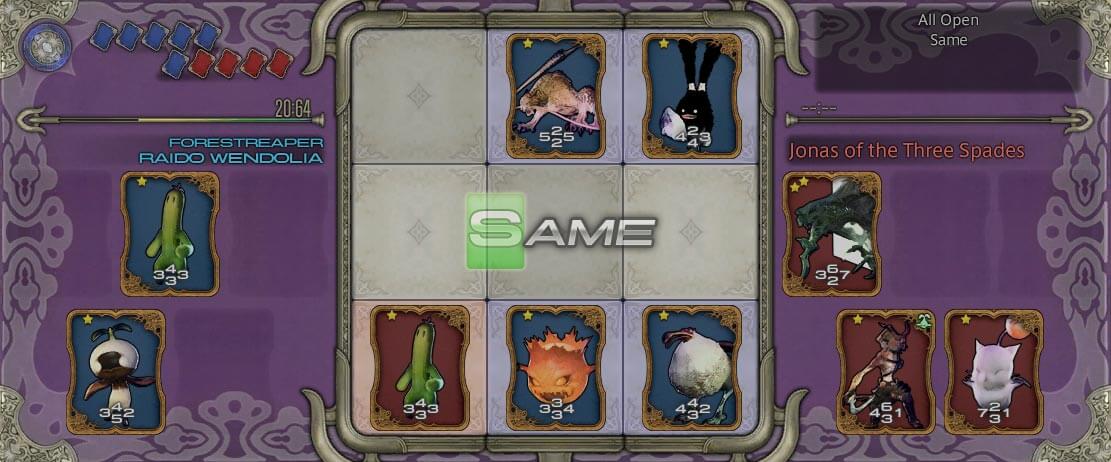 Here is one of my games. For the Same rule to work, at least one the cards must be owned by the opponent. In my example, the Dodo is mine and Jonas put a Sabotender on the bottom left corner. I placed my Bomb between the two, and got a Same, because the left side of my card is the same as the right side of the Sabotender (3 and 3), and the right side of the Bomb is also the same as the left side of the Dodo (4 and 4). The Sabotender card is now under my control, and I didn't have to use the strong side of my Mandragora to get it!
Getting the Chocobo card could help you with Jonas. You could use the Same rule to capture his Demon Wall or Blue Dragon if combined with a Spriggan or a Coeurl (on the top of your Chocobo) or a Spriggan, Dodo, Sabotender or Bomb (if placed under it).
Anyway, try to build a deck with cards having sides of 2 or 3, as they are numerous in Jonas' deck. The Sabotender, Bomb and Coeurl are a must-have.
Try to get at least his Ixal card, as the drop rate is good enough. Also, if you don't mind spending a few MGP, maybe you could buy a Bronze Triad Card now. You could always get a Behemoth! (don't be mad at me if it's not the case)
---