King Elmer III
Gold Saucer (3, 7)
Cost
Reward
30
117 (Win)
46 (Draw)
17 (Lose)
Rules
Level
Plus
7
Potential reward
Conditions to challenge
None
Drop rates have a color to illustrate their accuracy depending on the number of drop reports:
Red: inaccurate (less than 100 reports), Orange: somewhat accurate (100~1000 reports), Blue: accurate (more than 1000 reports)
Deck
Cards marked with a green circle are always in this NPC's deck.
Tips
Guide written by Miette Leuvoix
Using this stategy you can beat King Elmer III with the standard deck given to every player when they start Triple Triad. Note that this strategy only works when you go first and even then won't work every time. In a large number of cases however, Elmer will place cards in such an order that when you place the bomb in the middle at the last turn, the Plus rule will win the game for you. The success rate of this strategy is slightly above 50% and though you will still lose frequently, you will still gain more GP than you are losing, making it a valuable farming strategy for both earning his two cards (Bahamut and Godbert Manderville) but also a steady stream of MGP.
Note: Even if something happens to break the strategy, such as him placing a card that would break the order (which will always happen when he goes first), you can still win with these cards with knowledge of the Plus rule, so keep your eyes open.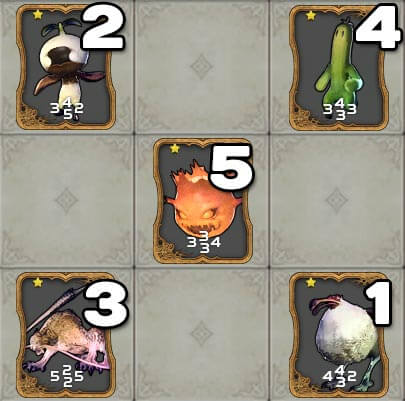 ---